The Latest TIFF Award Winner Is a High Schooler From Toronto
Meet a student filmmaker with some serious skills and impressive hardware from TIFF.
You might not have known his name until now but Cole London is going to be one to watch. The 17-year-old from the Claude Watson Secondary Arts Program just won the coveted Best Film award at the TIFF Jump Cuts High-School Filmmaker Showcase.
Keep reading to find out about the film he made, how he won, and, even better, watch the award-winning My Fair Robot!
The TIFF Jump Cuts High-School Filmmaker Showcase
Celebrating the innovative films coming out of classrooms across Ontario, the TIFF Jump Cuts High-School Filmmaker Showcase is designed to spotlight creative and promising films of all kinds. Regardless of previous filmmaking experience, all students are welcome to compete in this Canadian filmmaking competition.
The program encourages students to use film as a way to think critically, tackle major ideas, and share their voice. Cole did all of that with his film, which is undoubtedly why he took home the top prize.
Frankly, just having your film play on screen at the TIFF Bell Lightbox sounds like a win in itself. (Although Best Film is also pretty good.)
My Fair Robot
"When Charlie can't get a date to the dance, he decides his best option is to build one and train it to be the perfect date."
That's the description of My Fair Robot, the Best Film-winning short. You can watch the entire short film here.
And it's definitely worth the watch. The most impressive part? The film beat out over 90 other student films for the win!
Cole is taking his filmmaking skill to the next level in the fall. As one of only 10 students accepted to York University's BFA screenwriting program, something tells us his future shorts are only going to get better.
Here's hoping we see some more award-winning films out of Cole over the years.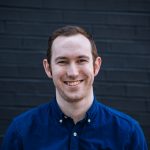 Connor Briggs-Morris
Connor Briggs-Morris is a copywriter for Student Life Network. He loves all things Batman and can't deal with walking behind slow people.