We Made A Checklist For Your Residence Shopping
Feel confident you won't leave anything behind with this interactive, downloadable checklist.
Ya, but where should you buy this stuff?
Amazon has some amazing deals on each of these products. Head over there to get your shopping started!
Shop for these items: https://amzn.to/2I60lfd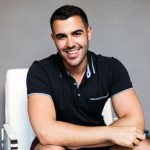 Vincent Atallah
Vincent's the Managing Director of Don't Freak Out! (DFO), a company that teaches high school students how to manage their money. He also speaks to groups of young professionals on topics like how to find your passion, how to be an effective young leader, and how to maintain healthy physical and mental habits.