Special Deal: Unlimited 2-Day Delivery & Easy-To-Find Textbooks
All of this. Just for being a student. Check out this amazing deal.
As a student, you get a tonne of amazing deals from companies trying to get your long-term business. We've scoured through dozens of these deals trying to find some of the best ones available– this is one of them.
Here's a list of the best 5 things you get from this deal from Amazon.
1. Free, unlimited 2-day delivery
This is, by far, one of the best benefits offered in this deal. You'll get free, unlimited 2-day delivery on all Prime-qualified items (basically everything TBH), and free delivery on everything else. As a recent grad, I can tell you that this seriously came in clutch.
2. Faster, free delivery options
In some major cities in Canada, you can get some packages delivered on the same day that you order it. I have literally never had a company cater to my impatience better than Amazon.
*screams internally*
3. Early access to deals
On days like Black Friday and Boxing Day, you'll get early access to the best deals. I once bought a luggage set for 70% off, and got access to that deal 30 minutes earlier than everyone else could (because shopping is an absolute race).
4. Unlimited cloud photo storage
Does your phone keep painfully reminding you that you're almost out of storage every time you take an insta-worthy pic of your ice cream? Because mine does…
This deal gives you access to unlimited cloud photo storage, meaning you can upload those 17 selfies that never made the cut for your timeline until their day comes. Which, as we know, it will.
5. A massive marketplace of textbooks
I used this several times when I was a student. Amazon actually has a massive listing of updated, accurate text books that your teachers might assign to you. When you get your list of books you need for class in September, check Amazon first. Chances are that if they have the book, it will be cheaper than the book store at your school.
So, what is "the deal" I've been talking about? It's called Amazon Prime for Students, and we hooked you up with a way to get it. When you sign up for this (for free), you get all of these benefits for 6 months, and then 50% off of the annual membership for as long as you're a student.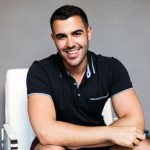 Vincent Atallah
Vincent's the Managing Director of Don't Freak Out! (DFO), a company that teaches high school students how to manage their money. He also speaks to groups of young professionals on topics like how to find your passion, how to be an effective young leader, and how to maintain healthy physical and mental habits.